Want to check out our tractor maintenance videos? Click here to see what we've got!
CLUTCH
As a tractor clutch is used, wear takes place naturally on the friction surfaces. This will affect the setting of the clutch pedal free-play which must periodically be corrected.
The clutch pedal on a Massey Ferguson 35 is adjusted correctly when there is 3/8 inch (double clutch) soft movement between the clutch pedal in rest position (up) and when the pedal begins to feel firmer when pressed. [3/4 inch for single clutch models]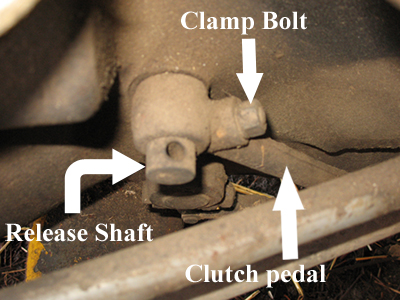 Adjustment is accomplished by slackening the clutch pedal clamp bolt and turning the clutch release shaft in relation to the pedal. Re-tighten the bolt and then check the soft free-play. Re-adjust if necessary.
PTO CLUTCH
Once the clutch has been adjusted then the PTO clutch release studs can be checked/reset. Remove the access panel on the underside of the tractor clutch housing. Using feeler guages measure the gap between the adjusting stud head and the PTO clutch release mechanism. This measurement should be between 0.089 – 0.091 inches. To adjust the setting, slacken the lock nut, move adjusting stud, re-tighten lock nut and re-measure the gap. The photograph below clearly shows this – this tractor has been split.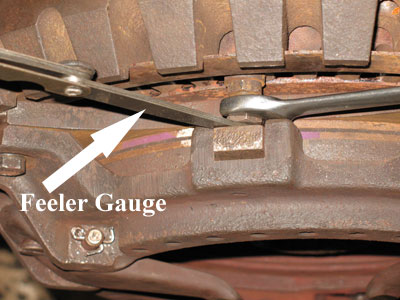 There are three adjusting bolts spaced equally around the clutch to measure and adjust. The clutch can be turned using a lever through the access panel. Applying a dab of paint to each stud after adjustment is a good way to be sure that you have done each one.
What people have said so far……
1
Bill says:
February 27th, 2007 at 7:18 pm
Hi, – great site, keep up the good work. The clutch is stiff on my MF65. Is there anything I can do about it??
Bill
Lymm,
Cheshire.
Bill,
This article may answer your question.
2
Esa says:
April 1st, 2008 at 8:19 pm
Hello!
> Greetings from Finland!
I have MF 35 23C -59. Would you tell me, how i can adjust clutch? There are dual clutch. What is fingers distance from flywheel?
Best for you
Esa
3
The Vintage Tractor Engineer says:
April 1st, 2008 at 8:21 pm
Carburettor single clutch
1.895? from flywheel face
23C single clutch
0.995? from flywheel face
Carburettor or 23C dual clutch
3 25/32? (96mm) from flywheel face
3-A-152
2.65? – 2.75? from face of the spacer ring segments.
4 13/32? – 4 15/32? from flywheel face.
Steve.
4
Sean says:
June 3rd, 2008 at 9:48 pm
On an MF35 4 cyl gas motor, what is the correct torque for head bolts. Or studs with nuts I should say. Also the sequence?
Thanks a million
5
ernest holloway says:
October 26th, 2008 at 11:35 pm
thank you very much for your help, I am very grateful. It seems strange that I, from the UK, have to ask you from the USA how to adjust an English tractor.