Want to check out our tractor maintenance videos? Click here to see what we've got!
The Ferguson FE35 (Massey Harris Ferguson Company) was manufactured from 1956 until part way through 1957 when production continued under the Massey Ferguson badge and red and grey livery of the MF35. The FE35 was painted in a distinctive contrast of grey tinwork and wheels with golden castings. These distinctive colours gave the tractor a list of names by which the machine became known…..
…..Grey Bronze, Golden Grey, Gold Bellies, Grey & Gold, Gold Standard, Golden Belly, Golden Bird, Goldbauch (Germany).
…and Vintage Tractor Engineer really likes this one from Sweden – "Guldkalv" = The Golden Calf.
The diesel powered tractors were fitted with a Standard 23C engine, which were notoriously difficult to start – particularly as the engines have become worn over the decades.  Owners of the diesel tractors may find our MF35 (23C) Engine Rebuild DVD helpful, along with some other tips we have on how to improve starting performance…
Enlarging Pre-Combustion Chambers
23C Fuel Pump, Aligning The Circlip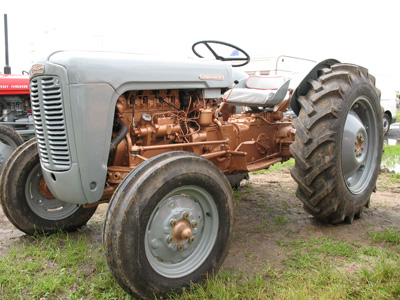 The FE35 had some notable improvements over the preceeding TE range, including independent brakes, dual lever control of the hydraulic lift and deluxe versions were equipped with live p.t.o. and hydraulics. This live p.t.o. feature transformed the usfulness of the tractor as the p.t.o. speed was now independent of the forward speed, this been useful for tasks such as muck spreading, root crop harvesting, baling etc. One reader has sent in his ploughing memories using one of these tractors.
The serial numbers are preceeded by three letters.
The first letter denotes the chassis type (S=standard, V=vineyard, J=industrial)
The scond letter denotes the engine (G=petrol, H= high altitude petrol, D= 23C diesel, N= 3-A-152 diesel, K=vapourising oil)
The third letter denotes variation (F=single clutch, M=dual clutch)
Data specifications and torques are as for the Massey Ferguson 35.
It is the distinctive silver and gold Ferguson badge that really finishes off this distinctive colour scheme.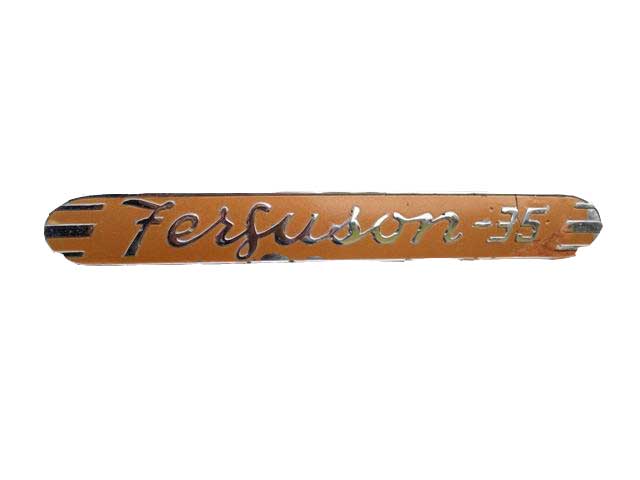 Comments…..

1
clyde says:

July 26th, 2007 at 6:22 pm
I have a 1957 MF 35 four cylinder diesel. The engine is the "Standard Motor diesel" 23c model.I have rebuilt the engine (no small feat). And every thing came APART very nicely. Well, except for timing the fuel injector pump. I have asked a host of well meaning mechanics all to not avail. Is there any one who could help me with that timing chain and camshaft (which drives the fuel injector pump. :::::::Clyde::::::

2
Steve says:

July 28th, 2007 at 9:12 pm
Hi Clyde,
Sure we can help you out. We'll e-mail you some help some time over the next few days.

3
Alan says:

August 22nd, 2007 at 1:00 pm
I too have a FE35 and am busy redoing the motor as it was spewing oil. Its a Vaporising oil motor, at least I think so because the carb has a 1578 stamped on it. Is there any other way of identifying the actual motor? I also see the only difference would be the S.R. Jet which is a 80 and on the petrol version is a 70.
Another question is can one drive this tractor on Lead replacement petrol continuously. I have done so since I had the motoe and don't know if that was the cause for the failure.
And one last question, is the colour scheme Grey Gold or Grey Copper? Here in South Africa it was also known as the "Koperpens" Copperbelly. Mine does actually look more like copper and not gold or bronze.

Thanks for any replies.

Alan

4
Steve says:

September 9th, 2007 at 7:35 am
Hi Alan,
The VO, lamp oil and petrol engines are the same basic block (denoted 87mm bore engine. Different carbs are used with varying arrangements of SR jets.

Petrol – Zenith type 28G carb, (3 different versions)
1. C1542 SR jet 70
2. C1575 SR jet 55
3. C1608 SR jet 70

VO or lamp oil version – Zenith type 28G carb
1. C1575 SR jet 55
2. C1578 SR jet 80

The other way to check the engine is through the serial number code. The first letter in the code will be S – standard, V – vineyard or J for industrial. The second letter in the code denotes the engine type G – petrol, H – high altitude petrol, D – 23C diesel, N – 152 Perkins diesel, K – vapourising oil, L – lamp oil. The 3rd letter in the code denotes the clutch type F – single clutch, M – dual clutch. The serial number is on the plate on the dash pannel.

The VO and lamp oil engine are fitted with a thermostat to provide a hotter engine than for petrol only, this assists in the vapourising of the heavier fuel. If running on petrol only we would suggest making sure it has the correct petrol thermostat fitted. The thermostat fitted to ordinary petrol engines is 65-67 deg C (stamped on the thermostat). VO and lamp oil engines it will be a 95 deg C thermostat.

So maybee you have been running on petrol with the incorrect thermostat and the engine has been getting too hot? Also remember that VO has a lubricating effect, wheras petrol doesn't.

Hope that helps.

Steve.

5
John Nelson says:

October 21st, 2007 at 8:23 am
hi there, i have a 1957 4 cyl 23c and have the same problem as Clyde here.i have done up eng and marked every thing i have pulled apart but i want to mark sure the marks are in the right place,eg timing of cam and injector pump, seems to be no factory marks to go by,hope you can help, Thanks John.

6
The Vintage Tractor Engineer says:

October 22nd, 2007 at 7:46 pm
Hi John,

We always try to answer any questions and comments from the website, however
it is a very tricky operation to time these engines.

Trying to describe it in an email is almost impossible.

Our MF35 Engine Rebuild DVD explains how to time the engine and it is much
easier to follow when you see it done on the television screen.

I feel a little unhelpful by just suggesting that you buy the DVD, but it's
probably the best way of showing you how to do it.

Steve.

7
chuck says:

October 29th, 2007 at 11:30 pm
i recentley bought a fe 35 with the 23c engin i have a small hole in the transmission belly pan looks like some one drilled it when the tractor warms up it leeks a lot of oil from this hole any ideals as to why or where the oil is comming from?

8
The Vintage Tractor Engineer says:

November 1st, 2007 at 4:24 pm
Hi Chuck,

The hole is factory made. If it's coming out of the splitpin hole in the clutch housing it can either be engine oil or transmission oil. Take the panel off underneath and look in with a torch to see if there is an obvious source of the leek. Either way you will need to split the tractor between the bellhousing and the clutch housing to replace the leaking seal. You will probably/possibly need to replace the clutch if any oil has got onto it.

Hope that helps,

9
David Baker says:

November 2nd, 2007 at 3:42 am
Hello, the 3x point linkage and front loader on my 1957 4x cylinder diesel Mf35 have stopped working, all happened out of the blue, just worked one day then not. I changed the oil which was quite milky, front loader went up once then no more. 3x point kind of tries to rise (judders)but has no power. Any pointers as to where to start looking.? Best regards David.

10
The Vintage Tractor Engineer says:

November 5th, 2007 at 8:39 pm
Hi David,

First question is does the PTO work. If it does not then there is no drive getting through to the hydraulic pump, which would mean either problems in the clutch or rear end drive. If it is trying to lift a little bit then the above is unlikely to be the problem.

The most likely reason for your problem is that the control valve is sticking. If you take off the right hand side cover (where the transmission oil dipstick is) you will see a lever stuck up out of the oil reservoir with
a small roller on it. Try working it backwards and forwards a few times to try and free it. The spring will return it to the correct position after you have done this. Next run the tractor with the side cover still off. Put the position lever to lift and look inside to the oil reservoir. You will be able to see some slight agitation of the oil because of the rotation of the pump shaft drive; if there is any signifficant turbulence or spraying of oil would mean that there is a leaking pipe/burst o'ring etc.

I suspect the most likely cause of your problem is the stuck control valve.

If freeing the control valve releaves the problem for a while, but then it re-occurs, you may have a scratched control valve or corrosion in it. The milky oil (caused by water in the system) is likely to have accelerated the deterioration of the component. This is why the manufacturer recommends changing the oil every 12 months even if the tractor has not done many hours
of work. In fact the less regularly the tractor is used, then the greater
the necessity to change the oil every 12 months.

Hope that info helps make your diagnosis. If the control valve needs to be remove, then watch out for our MF35 Hydraulics Repair DVD to be released early in 2008 which will be of help to you.

Click this link to see what happened with this FE 35 tractor hydraulics problem.

Steve, VTE.

11
Kevin Tobin says:

November 7th, 2007 at 8:50 am
Hi, The info might be on here somewhere, but I'll ask in case. I'm new to this vintage tractor game!
I have an FE35 petrol and I have lost the oil through the spool. What oil spec do I need to replace it?
Thanks
Kevin

12
The Vintage Tractor Engineer says:

November 7th, 2007 at 6:59 pm
Kevin,

The transmission oil should be 30.28 litres (6.6 imp gallons)of SAE 50 oil. This is for an oil temperature of 43-60 deg C. If the oil is usually cooler than this then it would be acceptable to use a lighter grade of oil. In practice a modern universal tractor oil of 15/30 or 15/40 will be OK in most conditions.

Steve.

13
Alan Fisher says:

November 11th, 2007 at 9:07 am
I have a MF35 with the 23C four-cylinder diesel engine. While these engines never started easily, this engine is getting particularly hard to start. I have heard that it is possible to fit a different starter motor, which turns the engine over faster than the original starter motor, and ths improves starting. Does anyone knoew if this is true, and if so, what starter motor can be fitted?

Thanks for your help
Alan

14
The Vintage Tractor Engineer says:

November 11th, 2007 at 5:25 pm
Alan,

We've no first hand experience of changing the starter motor, but I've heard that the starter from a Ford 5000 fits. Maybee a better avenue to explore would be Sparex – I understand that they used to do a 3kW HD starter to fit the 23C engine.

15
Michael says:

January 13th, 2008 at 8:06 pm
Where could I obtail the DVD mentioned above which shows how to set the timing on the diesel 23c engine?

16
The Vintage Tractor Engineer says:

January 14th, 2008 at 4:43 pm
Hi Michael,

All the info about the DVD is on this page.

Steve.

17
loek korssen says:

February 2nd, 2008 at 1:58 pm
Hi there,
I recentley bought a FE 35 with the serialnumber 107 291
Can You tell me in wich year this machine is manufactured?
Thanks for Your help.

Loek

18
The Vintage Tractor Engineer says:

February 5th, 2008 at 3:38 pm
Hi Loek,

You can find all that information on the Serial Number page.

19
Haukur Júlíusson says:

February 13th, 2008 at 9:56 pm
Can anybody tell me when the old "Ferguson" logo in the front of the hood was changed to the well-known three triangular MF logo. I think it was in the year 1958, but when?
Best regards.
Haukur J
Hvanneyri
Iceland

20
The Vintage Tractor Engineer says:

February 14th, 2008 at 5:00 pm
Hi Haukur,

I have not got to the bottom of this either. I know that Massey-Harris and Ferguson merged on the 12th August 1953, and were known as Massey-Harris-Ferguson. The name officially changed in late 1957 to Massey-Ferguson (with a hyphen), but I understand that the hyphen was dropped early in 1958. I am under the impression that the Triple Triangle badge was first used early in 1958, but I do not know when exactly.

Also, though, the last FE35 was serial number 74655 which was produced in 1957 and the first MF35 was produced in 1957 at serial number 74656 (but did it have a Ferguson badge or a Massey Ferguson badge on the front??)

Anyone else know?

21
Richard says:

February 19th, 2008 at 12:08 am
HI, I recently purchased an FE35 serial no 15265, I thought I had a grey and red one as I didn't have a close inspection of it at the time,(as I paid only NZ$600) When I got it home I put clean fuel in it and a battery and away it went,no smoke,everything works!, but on closer inspection I noticed a lot of the grey paint flaking off to reveal the gold paint, I had no idea they produced a gold 35 untill I found this great web site. Now I wonder If I have a great piece of history to look after!
What I'm not sure of is why the gold was sprayd over in grey, it has the Ferguson 35 badge side and front, and why the panels are red, or is this an undercoat and the grey worn off. Also there are 3 MF badges (stick on) below the lights and on the seat.
Any help would be great
Thanks
Richard
New Zealand

22
The Vintage Tractor Engineer says:

February 19th, 2008 at 7:20 pm
Hi Richard,

The serial number of your FE35 dates the tractor early in 1957, and it souds like you've picked up a bargain. There seems to be quite a few FE35's about that have been repainted grey/red – I don't know why. The red paint is not an undercoat – if they are the original panels then you should find the grey paint underneath.

As for the gold paint; well actually gold is a bit of a misnomer, the actual colour is best described as copper. Also I understand that the grey is a slightly lighter colour than of that which is found on the TE20 Grey Fergies.

Everything should be painted the copper colour, with the exception of the bonnet assembly, the wings and the wheels. The axles should show through the wheels as copper, and the wheel nuts were originally grey.

These tractors are real head turners when they are in the original colours. Hope you get time to sort the paint job on this one.

Steve.

23
The Vintage Tractor Engineer says:

March 4th, 2008 at 6:35 pm
Bill has contacted us today to give the answer to Hauker's question, here is what Bill says…

I saw your question asking when the MF "Triple Triangle was first used. According to an article in TRACTOR & MACHINERY MAGAZINE
(England) it first appeared on November 19th, 1957. I have a 1957 FERGUSON F-40 without the emblem and a late 1957 Massey Ferguson 50 WITH the emblem.

AT the unvieling of the new emblem a hyphen was used (MASSEY-FERGUSON) but shortly after, the hyphen dissapeared (MASSEY FERGUSON)

24
CWDickinson says:

April 11th, 2008 at 5:50 pm
Dear sir, In answer to e mail no 20 ,I have a 1958 fe35 in red & metalic flint grey , 1st reg 24/6/1958, serial no sdm 102146 , this tractor was purchased from Lenfield eng kent ,reg no 822 ckr , massey haris ferguson on commission plate and badged ferguson on front of bonnet in one piece,all of badge chromed no colour in background of badge .Hope this is of use to you . regards hammer man.

25
JOHN BALL says:

April 23rd, 2008 at 6:22 pm
Hi, I would like to know the cc of a FE35 23c diesel engine as I,am filling in a DVLA 55/5 for an age related registration number.
Regards John

26
The Vintage Tractor Engineer says:

April 24th, 2008 at 7:00 pm
John,

The 23C engine is 2259cc, or 137.89 cu ins.

Steve.

27
chris ward says:

April 26th, 2008 at 5:58 pm
I have a fe 35 Ferguson engine no. sj13243ed. First sold in Scotland serial no. is not readable. I am trying to trace a registration number for this tractor, maybe someone could help me.

Regards

Chris

28
chris stroud says:

May 12th, 2008 at 10:10 am
I have recently bought a restored FE35 Grey and Gold SDM 29018. I note your site with interest, particularly your detailed explanation of the years of manufacture and colour schemes. You say in one of your replies to another questioner that the gold is in fact more of a copper shade and that the grey is lighter than the preceding TE series. Would you happen to know the paint reference numbers and the names of any UK suppliers?

Many thanks.

Chris

29
The Vintage Tractor Engineer says:

June 4th, 2008 at 5:58 pm
Hi Shane,

If you look on the lower right hand side of the dash panel near to the ignition key there should be a metal plate. The serial number will be on the bottom of the plate.

Steve.

30
shane says:

June 7th, 2008 at 6:48 pm
the plate on the dash is gone how do i tell the year in which the tractor was made. thanks

31
The Vintage Tractor Engineer says:

June 8th, 2008 at 3:50 pm
There should be a date stamped on to the side of the transmission housing.
E.g. 21.3.57.

Steve

32
peter o reilly says:

June 17th, 2008 at 4:39 pm
I bought fe35 over 12 months ago doing work myself.
She has a pick up hitch on rear i cannot for the life of me find a T bar for the three point linkage for operating the pick up hitch could you please help.
Im in ireland but willing to travel for it.
Thank you.

33
The Vintage Tractor Engineer says:

June 17th, 2008 at 7:14 pm
Hi Peter,

Sorry to say that we haven't got one at the moment, but have you tried the small ads in Tractor And Machinery magazine. Another suggestion is to look on ebay.

Steve.

34
Irene Wilhelm says:

June 18th, 2008 at 8:53 am
Hello – I am on the search of the paint codes for the Grey/ Gold version. MF in Norway will not give me this code. Does any of you know what color codes to use?

Regards
I.Wilhelm
Norway

35
Andy P says:

June 19th, 2008 at 6:52 pm
I have read that the NAPA codes are 99L3740 for the grey and 99N-22138 for the Bronze/Gold.

Andy.

36
JOHN BALL says:

June 21st, 2008 at 12:56 pm
Hi, I have recently bought a FE35 Grey/Gold, dash panel has three clocks 1 Tractometer. 2 Oil pressure gauge. 3 Ammeter gauge. Should there be a temperature gauge on the panel, there does not seem to be a position for one.Regards John

37
The Vintage Tractor Engineer says:

June 30th, 2008 at 3:15 pm
There isn't a temperature gauge on the diesel tractors (or a sensor). Only the non-diesel variants have the temperature gauge.

VTE

38
steven says:

July 22nd, 2008 at 10:30 am
I there i just a bought a frontend loader/backhoe base on a fe35 for my hobby farm.besides being base on a fe35 and haveing a 4 cylinder diesel i have no idea what year it was made and what model it is iam only going by the fe35 on the hour gauge. The complance plate has been pulled off i herd it has been made in france. iam sure its a fe35 but it has a different front body. steven.

39
Garry Nowlan says:

August 5th, 2008 at 11:50 pm
Hi Guys,
Iam from Australia and bought a FE35 tractor a couple of months ago and need to confirm exact model so I can get the paint job right. The compliance plate cleary states FE35 just above the s/n, which is SDM 77754. This makes it a 1957 model. The Tractormeter clearly states FE35 at the bottom of the gauge. The transmission is clearly stamped 2.12.57. There are old decals on each side of the bonnet painted over but still visible stating "Ferguson 35?. So it should be an FE35. But according to the s/n table the FE35 was only manufactured to s/n 74955 then became MF35. As my s/n is 77754 this would make my tractor an MF35. But everything on the tractor says it is an FE35. However the date of manufacture at the end of 1957 might put it in the MF35 category. Can you tell my why an MF35 would be plated as FE35 or vica verca, and what colour should my model tractor be? It has a small heavy duty bumper bar at the front under the radiator, does that help? Hope you can assist.

Regards
Garry

40
Nick says:

August 13th, 2008 at 2:23 am
Refer comment 20.
My ferguson plate is stamped FE35 and its serial number SDM74740 (23c engine) which is a later number than when you have advised they stopped the FE35's. Any ideas as I'd like to buy a service manual. I have a couple of fuel drips leaking from the injector pump (I think that's what it is)and I have no idea how to fix it !!

regards
Nick

41
The Vintage Tractor Engineer says:

August 15th, 2008 at 10:56 am
Hi Nick + Gary,

When the tractors changed from the FE35 (gold and grey paint) to the MF35 the plates were still stamped as FE35. In fact the plates continued to be stamped with FE35 – we have a 1962 MF35 3 cylinder which we purchased brand
new and it has FE35 on the plate. So I would suggest that yours is one of the first Massey Ferguson 35's. It would seem that the first of the Massey Ferguson 35's were painted red and grey, but still retained the Ferguson badges on the front and side of the bonnet – I imagine that yours will be like this. The Massey Ferguson badge didn't appear until some time early in 1958. Look at this photo from late 1957 / early 1958.

The FE35 and MF35 4 cylinder tractors are mechanically identical, so the manual for either will be OK. I would definately recommend getting the proper Ferguson manual, as the ones produced by other companies are not as good. The Ferguson manuals are approximately twice the price, but well
worth it.

Hope that helps a little.

Regards,

Steve

42
JOHN BALL says:

September 2nd, 2008 at 12:02 pm
Hi, I recently bought a FE 35 Grey/Gold which has had the engine rebuilt plus new diesel pump and injecters. When the engine has warmed up, if I leave it running at 800 revs it starts to hunt and then cuts out, no problem to start again if I open the throttle a bit. If I leave the engine running at 1200 revs there does not seem to be a problem. Could you diagnose what the problem is. Ps,It starts well with a little heat and ticks over at 300 revs when cold. Kindest regards JOHN

43
Terry says:

October 3rd, 2008 at 8:38 pm
I believe i have a FE 35 Grey & Gold 4 cyl diesel. Can't find serial #. If its on the metal tag on dash then I can't read it. It has a tag 19.11.56 on right side of motor and stamps on gear box of 182.840 M1 and 183.253 M1 . Runs well, leaks a little diesal and needs new paint job. Steering arms really good. She's been good for us for the last 8 years. I am thinking of selling, can you give me guide on price. I was thinking $3,500 ?

Thanks Terry (Yarra Valley, Melbourne, Australia.

44
Jonas says:

October 4th, 2008 at 9:23 am
Hi there, I have the same problem Terry has, the number is not on the metal tag, and we need to know the place where it is stamped on the chassis as well, so we can show that to the registration office. Anyone know where to find it?

Thanks a lot,

Jonas (Belgium)

45
Lewis Folb says:

October 8th, 2008 at 8:11 pm
I am in the process of buying an FE35 Grey Gold. It is in very good condition, having being rebuilt quite recently. I am in Australia and looking for an owners manual (not a workshop manual). Any ideas?

46
Andy McLaren says:

October 11th, 2008 at 5:48 pm
Good day.

Diesel is dripping badly from the injector pump on my grey/gold. I have successfully tightened the oval plate with gasket on the outer face of the pump – this has screws fitted. Leakage seems worse from the corresponding oval plate on the inner face of the pump but this is virtually impossible to access without removing the pump -so far as as I can tell this plate also has securing screws rather than hexagonal nuts. I have tried in vain with a right-angle screw driver. In removing the pump I am scared of upsetting the timing. Do you please have any suggestion that would avoid the need to remove the pump? Is a repair kit available for these injector pumps.

Also the tractor runs and pulls well but 'breathes' from the crank case pipe on the right side of the engine. Is there a possible cause other than simply a worn engine?

Many thanks. Andy (Hampshire UK)

47
The Vintage Tractor Engineer says:

October 26th, 2008 at 7:05 am
Hi Andy,

Gaskets are available for the pumps. All you need to do to make sure that you don't upset the timing is to note the position of the scribe mark on the pump mounting flange in relationship to any marks on the drive housing. If no marks are present then make one. You cannot get the shaft wrong because it has got a master spline.

As for the breathing. It can only come from either down the side of the rings or out of the valve guides (less likely. If it starts and runs OK, then I would just leave it as it is. Otherwise you would need an engine kit and rebuild.

Steve.

48
tony shannon says:

January 5th, 2009 at 5:48 pm
just a note to answer any query on when the massey ferguson badge was first used. the first mf 35 was produced on the 5th of december 1957 but retained the ferguson badge until serial no. 107892 which was around june 1958. the six stud half shaft housing used on the gold belly model was used on the first 2972 mf tractors before being replaced with the 12 stud type. the old style bonnet with the push buton mechanism was used until 1959 at serial no. 141140.