This video is now also available to purchase for immediate online streaming/download.

Click Here

for that option.
Want to repair the hydraulics on your TE20?

– but need a confidence boost!
Wouldn't it be great if…
You had a DVD to show you how?

Close-up camera shots showed the repair in step-by-step detail?

You could pause, rewind and play the video again?

You saved money on hiring a mechanic?

You knew the job was done correctly?
Well you

can

have this!
…with the Ferguson TE 20 Hydraulics DVD.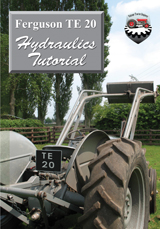 This DVD is in PAL format, if you are in USA, Canada or other NTSC DVD country please read this page.

"This hydraulics tutorial shows how to remove the hydraulic pump, strip the pump and then rebuild, to get your system back to performing how it should."
What's included?
Remove top cover

Withdraw p.t.o. shaft and remove pump

Strip pump and valves

Assess pump and valves

Reassemble pump

Inspect lift cylinder and piston

Setting of quadrant lever
You can read about the making of the DVD here.
What's the DVD for?
Any of the TE 20 tractors (including TEA, TED, TEF)

Information relevant to TO 20 tractors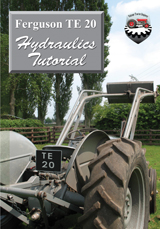 £34.99
Buy both the MF 35 Hydraulics DVD and the Ferguson TE 20 Hydraulics DVD together for £54 (normally £69.98).  
What people have said
We continually get customer comments (and a question from Patrick), here are just a few…

These comments are from our customers, but if you would like to read more independent views then please take a look at what people have said on our eBay feedback.

1  Hi, Just viewed my copy of the hydraulics DVD and I'm really impressed with it. I'm no expert when it comes to mechanical things but the DVD is clear and simple enough to even keep me right – can't wait to get started on my TEF!
Thanks and hopefully the engine DVD is not too far away!
Andy

2  Hi Steve,

Many thanks for the T20 Hydraulics Video – Very well put together.  I bought it because my T20 hydraulics are under-performing.  Patrick.

3  I could have probably managed to take the system apart and put it back together again.  However, I would have really struggled with all the components in the pump. All those parts would have had me beaten I think, anyway the DVD just made it so easy to follow – knowing which parts to start with and building it up step-by-step. It was awesome been able to just copy the process.  Superb!!

Walter, New South Wales .

4  It just couldn't have been easier following your film.  Wouldn't have been able to do it without the vid.

David, Hampshire.
Money back guarantee
We're so confindent this DVD will show you how to remove and rebuild your hydraulic pump that we offer a money back gaurantee.
If you're not happy that this DVD  shows you the step-by-step process of how to remove, strip and then rebuild your hydraulic pump then just let us know, return the DVD within 30 days of purchase and then we'll return your money – simple!
———————————————————–
Vintage Tractor Engineer just has one more thing to add…
Q. Is this DVD a Hollywood blockbuster with specail effects, highly paid film stars and a multi-million dollar budget?
A. No it isn't

Q. Does this DVD show you how to undertake the repair in clear step-by-step detail?
A. YES, IN CLEAR DETAIL THAT A COMPLETE BEGINNER CAN FOLLOW !!!
Save
Save
Save
Save
Save
Save
Save