Want to check out our tractor maintenance videos? Click here to see what we've got!
Changing the tractor engine oil and filter is a straight forward job that anyone can do. Just follow the advice detailed in this article.
Wear gloves as used oil is carcenogenic.
Run tractor until warm.
Find a suitable container to catch the oil.
Slacken sump plug (remember the oil could be very hot).
Remove sump plug taking care not to loose the washer if one is fitted. Leave to drain.
Element type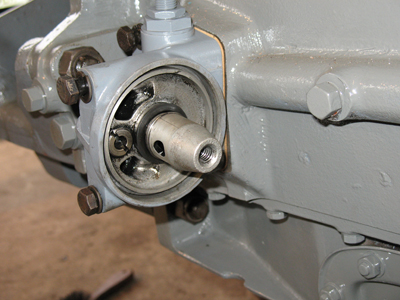 Undo bolt holding filter head to the bowl and recover 'o' ring from filter head.
Dispose of used filter after comparing against new element for correct replacement part then clean the filter head and bowl.
Take new rubber ring and coat with clean oil before fitting into its' groove.
Place element into bowl, refit and retighten.
Spin on type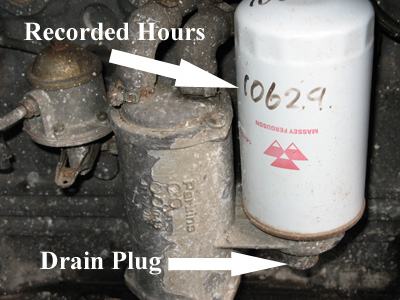 Remove with oil filter wrench; or an alternative method is to pierce with a screwdriver and unscrew using the screwdriver as a lever.
Wipe clean engine oil onto rubber seal (normally built into top of filter).
Fill with oil if possible, then screw on. To tighten, screw up until filter seal just touches filter head and then tighten a further 1/4 to 1/3rd of a turn.
The photo shows a spin-on oil filter – note the engine hours has been written on when it was changed. This particular example is on an inverted mounting; the drain plug can be removed to drain the oil before removing the filter.
Then….
Replace sump plug renewing sealing ring if needed.
Refill engine oil up to Max mark on dipsitck.
With stop control in stop position turn over the engine with the ingnition key until the oil pressure gauge shows some pressure (or warning light extinguishes).
Then start the tractor leaving it idling for the first 2 minutes, until the new oil is spread all around the engine.
Stop engine and leave to settle for 10 minutes.
Re-check oil level with dipstick and correct if necessary.
What people have said….

1
Pat says:

January 25th, 2008 at 5:02 pm
Can you tell me what engine oil filter I need for an International 955 4wd tractor please? It is on the right side of the engine, halfway back.
Many thanks.

2
The Vintage Tractor Engineer says:

February 2nd, 2008 at 9:02 am
The Case part number is 1329020C2
A vapormatic part number is VPD 5017

This filter also fits Case/International 955, 1055, 1255, 1455, 884, 885,
856, 956, 1056, 4230, 4240, 946, 1046, 1246.

Hope that helps.

Steve Ridsdale