Want to check out our tractor maintenance videos? Click here to see what we've got!
The MkI Massey Ferguson 65 was introduced in 1957 with a 50.5 horse power 4 cylinder Perkins engine. 21,378 of these tractors were manufactured, before the MkII was introduced in 1960 with an increase in power to 56.8 h.p. 13991 standard MkII's were built before the introduction of the MkII Multi-Power in 1962, of which a further 15,687 were made.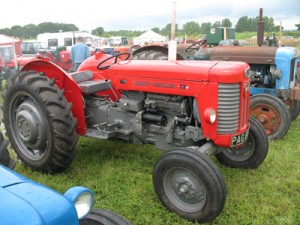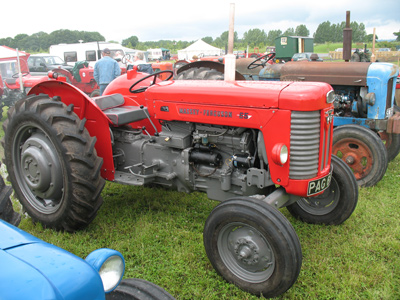 "This tractor belongs to John McAndrew, and is in show condition.  Hopefully ours will look like this in time."
 The relatively small production numbers of these tractors (in comparison to the MF35 or TE20) is now making them quite collectable. There have been several tractors making around £10,000 in 2008 and Vintage Tractor Engineer believes that prices will continue to slowly rise in the future. One difficulty with restoring a '65 is finding a replacement bonnet, so always look for an example with a good bonnet if possible.
We have just bought a MkI 65 serial number SNY 519642, with 8466 hours on the clock. It has a dual clutch, diff-lock and has been recently painted (although it's only a poor paint job, done by the previous owner). Overall condition of the tractor isn't too bad and the bonnet is very good indeed, with no rust and no dents. It has recently had a new battery, starter motor, seat and water hoses, but it does still require quite a lot of mechanical repairs before it can be repainted. As you can see from the pictures, the safety start switch isn't wired up, the whole wiring is a mess and the regulator box isn't on its' mountings.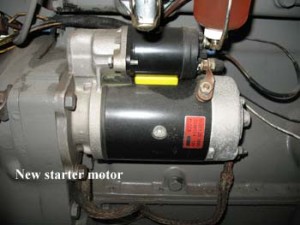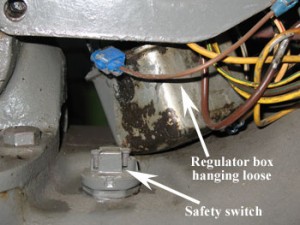 There are oil leeks all over, the wings are nearly rusted through, clutch pedal needs adjusting, oil leeking from the steering box, replacement tin-work needed at the front, re-chroming of the bonnet catches and throttle lever etc. etc. Also the brakes (like on most 65's) don't work at all and need repairing. It looks like we are going to be busy with this tractor, but at the end of the day we will add a lot of value to the tractor by the time we are finnished. Take a look at the photos below.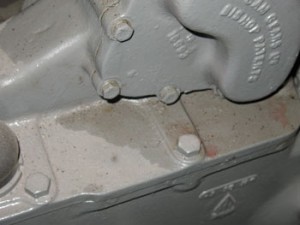 Comments…

1
steve says:

January 6th, 2009 at 1:28 pm
i like the look of your mf65 ive just found a similar one on a farm which is in a bad state on the good side is shes a runner on the bad no brakes at all the body panels are rotten and the rear mud gaurds are off a 165 and im in to minds to buy her as a prodject i must be mad lol would love to see what yours looks like when shes done. steve