Want to check out our tractor maintenance videos? Click here to see what we've got!
Removing the hydraulic top cover on the MF35 (or any other tractor) is not an easy task, as the cover is quite heavy.  To help facilitate this Vintage Tractor Engineer has drawn a to scale sketch and added phtotos.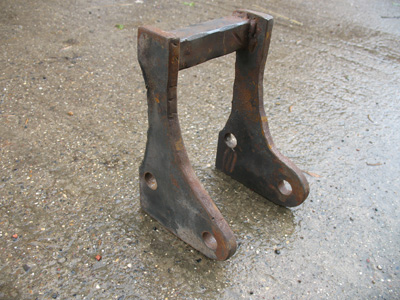 A number of people have used the drawings to manufacture their own bracket which has made the task a true one man operation.
Brian has very kindly provided a more accurate CAD drawing of the bracket, which is in superb detail.  He's emailed it in to Vintage Tractor Engineer to make it available to everyone.  So here it is.  Just click the link below to download the pdf drawing (557kb)…
Bracket for Hydraulic Top Cover Removal – Massey Ferguson 35
This file may not open automatically in Adobe Reader.  Click the download icon in the top right hand corner of Adobe Reader to bring the file onto your computer screen.
Laser Cut Files
Brian has also sent the DWG / DXF cut files for anyone with access to a laser…
ZIP file of the pdf CAD drawing and the DWG / DXF cut files