Want to check out our tractor maintenance videos? Click here to see what we've got!
Last week we sent out a Massey Ferguson 35 Hydraulics DVD to Mr Alan Clark from Ontario Canada.  He has made his own bracket to help flip over the hydraulic top cover, and has made such a good job of it Vintage Tractor Engineer thought it was worth showing the pictures here on the website.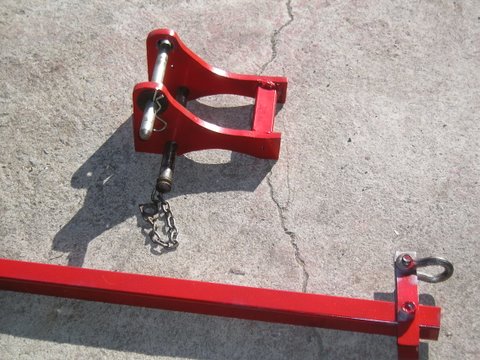 After watching the DVD, Mr Clark sent us an email – and here's what he wrote….
Many thanks for the Hydraulics DVD.

I especially liked the way you admitted that some things i.e. the dismantling of the lift cylinder/spring assembly, took more than five minutes.

I found it a great encouragement.

I am currently replacing and older, no filter, hydraulic pump with a new, later unit, with a filter.

I will be able to set everything up properly now, after cleaning out the sludge from 50 years of neglect, on this, my neighbour's 1959 MF 50

I had already made the bracket, from the info on your website.photo attached,great idea adding the 0-8cm scale.

You will note I have fitted a shackle, to cheat, and help me lift the top cover, must be my age.

I will be asking for your Engine DVD, as Christmas nears.

thanks again

Alan Clark
It's always nice to receive such emails and know that people are working in their garages all over the world restoring these old tractors and enjoying their work/hobby.
Mr Clark has sent in some photos of the bracket he has made, and what a neat job it is!!! The plate is cut cleanly, the pin is held with an R-pin and washer, painted Massey Ferguson red and the addition of the shackle on to the handle/stand.
A perfectly manufactured bracket (which puts Vintage Tractor Engineer's rusty old bracket to shame!!!)
Alan reports temperatures of +2 degrees C in Canada at the moment and snow flurries forcast for later in the week, so he's trying to get the MF50 back in working order before the weather closes in.  So good luck Alan.