Want to check out our tractor maintenance videos? Click here to see what we've got!
The engine rebuild got off to a brisk start with most of the ancillaries being removed in just a few hours and then the engine was hoisted off the bell housing successfully. That revealed that an incorrect clutch plate had been fitted previously. It was a flat plate, when a dished centre should have been fitted. This had resulted in the rivets at the centre of the clutch plate catching on the flywheel fixing bolts.
Then we started to strip down the engine itself. Removal of the cylinder head revealed that the head gasket had been fitted upside down. If such elementry mistakes had been made, we were quite concerned about how much attention to detail had been exercised with the rest of the engine set-up.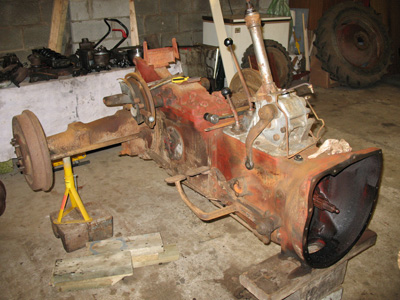 The photograph shows what was remaining of the tractor after we had finnished that day. The owner began to competely strip down the rear end and prepare the castings for painting. That should keep him busy while the engine goes to the engine remanufacturing shop for some work. Without going into too much detail, we found a whole manner of things wrong with the engine that needed rectifying. Thankfully for the owner the brakes were in good order and required little work. New skins were sourced for the mudguards, new wheel dishes and rims fitted and the handle on the levelling box was re-chromed – otherwise it was just a case of repainting the rear end.
Read ENGINE REBUILD – Assessment