Want to check out our tractor maintenance videos? Click here to see what we've got!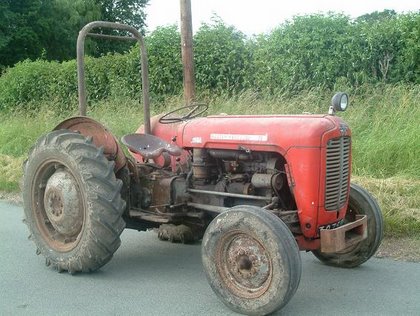 In 1960 my grandfathers best friend, a farmer called george Hill or Chummy as he was known, purchased a new Massey Ferguson 35, reg number 307 5RF, serial number SNF 187716. My grandfather allowed him use of the tractors on our farm and he allowed my grandfather use of his little 35 aswell. Sadly Chummy passed away over 10 years ago and the 35 was left to his nephew, who had no interest in tractors. Despite many offers from different people wanting to buy it, he wouldnt sell. Now the tractor had stood for over ten years in a barn, and in 2008 i approached him and asked to buy it, now weather it was because his uncle was my grandads best friend, or the fact he knew i wanted to keep it and work it, and not just sell it on and make a quick buck, but he sold it to me. Me and my dad went to collect it, we checked for oil and water and some form of brakes, we towed it out onto the lane with one of our Fergie 20's and jump started it. Bird poo,cowmuck and dust flew everywhere and despite not running for over 10 years she roared into life and started to run well !!
We have had the tractor for over 18 months now, and she has been fantastic. We have replaced a few bits when needed to include control box,waterpump,brakes,injectors serviced. She is in constant use and does many things including powering a haybob,carting timber, powering a sawbench,chain harrowing and carting some of our other tractors to shows and rallies.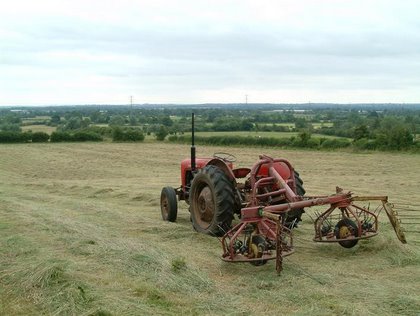 I have toyed with the idea of overhauling the engine and painting her for some time, and at the start of this week i have taken the plunge and split the tractor in two. I am currently waiting for the engine overhaul kit from Massey and will attempt to paint it when all the mechanical parts have been done.
I am very much looking forward to getting it restored and up and running again. I am the second owner on the log book and the tractor is still kept only 400 yards from its original home in 1960.
More info and pictures on my website:
Mark Johnson
Mark,

Thanks for sending in the photos and story about your tractor.  It is really nice to know that the tractor is just next door to where it has worked all its life.

Mark's website is a really good read, so follow the link above and have a look at his other tractors and how he uses them.

Steve (VTE)