Want to check out our tractor maintenance videos? Click here to see what we've got!
This is an original David Brown 2D tractor instruction book and parts catalogue. ***NOT A PHOTOCOPY***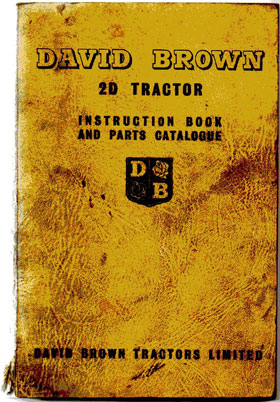 ***Sorry, this item is SOLD***
£34.99
The catalogue is dated July 1952 and is in very good condition for its age. 100 pages, all complete with no tears. The outside covers have some oil and dirt on them and the spine is very slightly frayed at the bottom (as can be seen from photo). There are a few oil/finger marks throughout the book, but really it is in very clean condition.
This manual has come from T H Hobson, Sutton on Derwent, York and has some hand written information on the inside cover. The written information gives the engine serial number as VAD12, 1211 and the tractor serial number as VAD 12 10110. These are the serial numbers of the tractor that this manual was originally supplied with.
If you are interested in this manual, you can either add to cart and buy online, or if you have any questions please contact us.