Want to check out our tractor maintenance videos? Click here to see what we've got!
We have looked before at Alf's County1124 tractor that he converted to six wheel drive and mounted a trencher on the back and loader on the front to make a superb draining machine.   The 6WD works well for traction, low ground pressure and to reduce the movement of the machine over undulating ground (important for accurate drainage pipe laying).
Alf has sent in some more pictures of his tractor, this time with dual wheels fitted to the two rear axles so that he could work in a particularly wet field.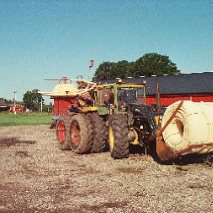 Vintage Tractor Engineer can just see the laser receiver projecting up from above the rear of the machine.
Here's what Alf had to say…
Hello again ! Alf Werner Sweden here – again.

As You seems to be County-fans I have top send you these pictures.

The story: A custumer wanted me to drain a WET field two years ago, I managed to drain parts of it, but after getting REALLY stuck more than once I gave up, for time being.  Last summer we attacked the field again with some more weels attached, and with ten weels on my County we were able to finish the job.

It cost me two weel-discs, but it was worth it.

Alf.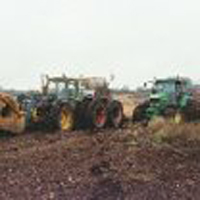 As you can see this conversion makes a useful machine, with the front loader holding 2 spare coils of pipe.
If you have a story about your tractor then let us know and we'll upload your story to the website.