Want to check out our tractor maintenance videos? Click here to see what we've got!
This past week we've been rebuilding a Perkins A6.354 engine from a Massey Ferguson 3080.
This engine has only done a little over 6,000 hours, but hasn't be well looked after.  The owner is a gentleman who takes lots of care and time looking after his pigs, but unfortunately spends little time on machinery maintenance.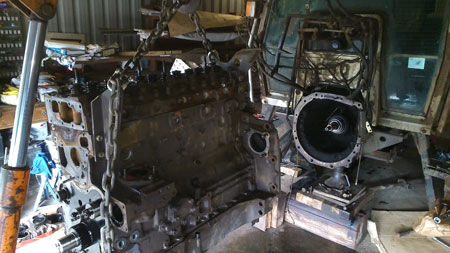 A couple of years previously when the engine became difficult to start, the owner reached for the starting fluid.  Here at Vintage Tractor Engineer we believe that if an engine won't start then something is wrong, the cause should be identified and then repaired.
The owener reported that the engine was losing power and eventually got to the point that it wouldn't start even using starting fluid, and that is when the tractor was brought to us for a rebuild.  The radiator choked full of dirt wasn't a great start…
The next photo is of one of the air intake ports (and they were all the same).  Severely restricted with carbon/soot deposits.  The valves were so badly burnt and pitted that combustion gasses had been escaping past the valves into the intake port and causing the build up.
Excessive use of starting fluid can wash the lubricating oil away from the cylinder liners and cause the rings and surface of the liners to wear.  The engine had reached the point where compression was so low (leaking valves, worn rings and liners, restricted air intake!!) that it would no longer start.
The engine has had new liners (bored and honed to size), pistons and rings, vavles, valve stems, valve seats, head surfaced and a new oil pump.  The crank only needed a polish and so new standard sized bearing shells were fitted.  The owner hadn't changed the engine oil for years, so we were expecting the crank to be in worse condtion than it was.
Vintage Tractor Engineer has an identical MF 3080 on our farm.  Well, I say identical, it has nearly twice the hours on the clock (just short of 12,000), starts first touch and runs as smooth as the day it left the factory 24 years ago.  Our pig farming customer couldn't believe the condition of our tractor compared to his – it just shows the value of regular oil/filter changes and a little bit of maintenance.
We told the owner to change the engine oil after 2-3 hours and then again at 100 hours.  We're not certain that it sank in, we think he was going to be too busy feeding his pigs!