Want to check out our tractor maintenance videos? Click here to see what we've got!
Ferguson TO35 Restoration
By The Vintage Tractor Engineer
A reader has sent in these pictures of a badly fire damaged TO35. This tractor has the Standard 23C 4 cylinder diesel engine and we hope that the engine rebuild DVD will come in useful in the tractor's restoration.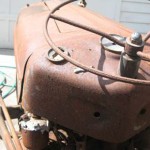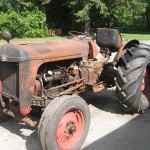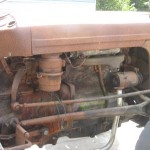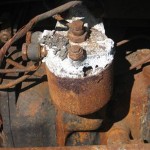 Vintagetractorengineer has a great deal of respect for anyone who is dedicated enough to undertake such a huge tractor renovation project (that many people would not even consider starting!). No doubt there will be many weekends and late nights spent on this tractor over the coming months. The Friends of Ferguson Heritage have a good list of suppliers from around the world for new/second hand parts, decals and other information. These guys seem to stock a good range of parts and the prices are published on the web.
As we can see from the pictures, the fire will necessitate replacement of parts that may otherwise have been serviceable.
The TO35 was built in the US and so we don't see them in the UK, however we believe the tinwork and the wheels should be in grey and the castings painted green. If anyone knows better then let us know.
Good luck Kevin and let us know how you progress.
Comments….
1
Jim, NJ says:

July 9th, 2007 at 8:19 pm
As far as I know the early TO35's were grey with green castings and the later ones had red tinwork and wheels with grey castings.

Jim.

2
Bill says:

July 5th, 2008 at 1:36 am
When i was a boy we had a 1955 TO35 deluxe, the sheet metal was grey and the casting was green. you can still get the correct paint.
How ever this was the time of change over to MF and even had MF casted on the rear axle casting. But as far as i know this was the only year it was that color. How ever am not sure. The 1955 was as said this i am for sure

3
John says:

December 1st, 2008 at 4:07 am
My TO35 is painted construction yellow, and the second owner from whom I bought it says that was the original color. Also, I've seen them with a beige or tan and red color scheme and a red and grey.