Want to check out our tractor maintenance videos? Click here to see what we've got!
We've written before about Dave's grey gold FE35 and red/grey MF35.  Well Dave has been busy over in Australia, working away at his red and grey 35.  Here are some photos and video of the nearly completed tractor.
Dave says about the restoration…
Thought I'd send a few pics and a short video of the progress, Fergie is nearly finished now with only the cowl hatch, LH front wheel and seat needing a little massaging.

Hood came up well, but the lower front panel didn't survive the rust removal and beating, just too far gone, and had to be replaced, the crank hole is a different shape to the original, but it will have to do.

Note the Ferguson 35 side decals, had them made to match the originals, they aren't perfect, but probably good enough, got a few spares, thought i might send some to Per in Canada to spur him on.

Also need to repaint the dash again, changed paint cans half way through and the colour has turned out slightly different. a message in there for wary restorers.

Anyway,
cheers from OZ,

Next is the grey/gold,………
I'm going to take a heap more photos of the "before" condition before i start this one, something i neglected to do with the Red / Grey, on reflection, i have very few photos of her before i started.

Dave.
Now for the photos…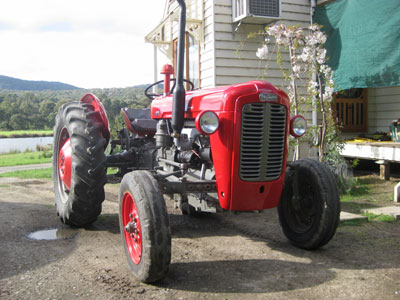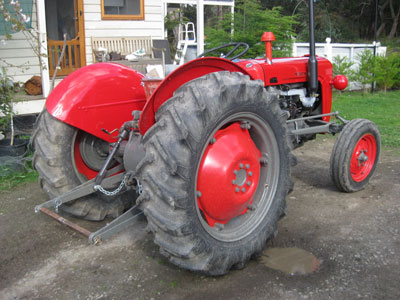 And the video…
We've also had some photos sent in from Jeff in Canada, who has a tractor of a very similar serial number.  Jeff's tractor also has the Ferguson badge on the front and the Ferguson sticker along the side of the bonnet – so it looks as though Dave was correct to have the Ferguson stickers made.