Want to check out our tractor maintenance videos? Click here to see what we've got!
This summer we had 2 new arrivals into the tractor collection, and as you can see they are some what different. The MkI Massey Ferguson 65 is rated at 50.5hp, wheras its big brother, the Massey Ferguson 8220 is rated at 155 hp.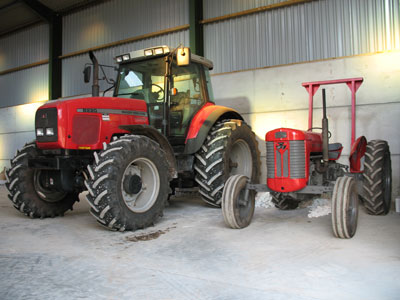 The MF 8220 will be used on the farm, predominantly for heavy cultivation work. The fuel tank holds 400 litres and the tractor weighs in at just under 7 tonnes. It has Datatronic II and the Power Control gearbox, giving clutchless forward and reverse with a total of 32 gears (8 gears, each with 4 Dynashift change on the move spits). Even the 8 gears can be selected by dipping the finger-tip operated Power Control lever, meaning that pressing the clutch pedal is now a thing of the past.
When we first tried the tractor on the plough it was dissapointing and didn't seem to pull very well. We put the plough back on the 140hp MF8110 and it was travelling at 5.5mph, in the same field that the 8220 was only pulling the plough at 4.1mph. Eventually we found the cause of the lack of power; a diaphram in the injection pump was split. Pressure from the turbo pushes on the diaphram, so the greater the turbo pressure, the more fuel can be pumped by the injection pump. On returning to the field we were now travelling at over 6mph with the 5 furrow Lemken vari-width plough opened up to 20? furrows.
The '65 looks tiny along side the modern tractor, but in its day it was one of the larger tractors available on the market. More to come on this MF65, as we take a closer look at its condition.
Comments…..
1
Tim Millgate (JCB DRIVER) says:

December 28th, 2008 at 9:45 pm
Hi, I have come across the fault you mention, but on the 6290 model. I have a service buletin that says to replace the diaphram with a modified version so MF knew about this problem and rectified it with a strengthened version, 8220 looks a smart tractor,looks like it has the heavy duty bar rear axle fitted, I've not had a right lot to do with the 8200 range,the dealer where I was working over here at Skipton sold mainly tractors from the smaller ranges,with it being more of a livestock area tractors of around 90 to 150 hp being the norm but i've worked on a few 8100's, watch out for the brakes breaking up on the 81 , before long you fill the back end with filings and all the valves get blocked, & its a right nightmare trying to clean it all out. regards