Want to check out our tractor maintenance videos? Click here to see what we've got!
As you can see from screenshot from our Google Analytics web-stats, the site has had 6901 visits in the month (Oct, 08), 5,600 of which are absolute unique visitors.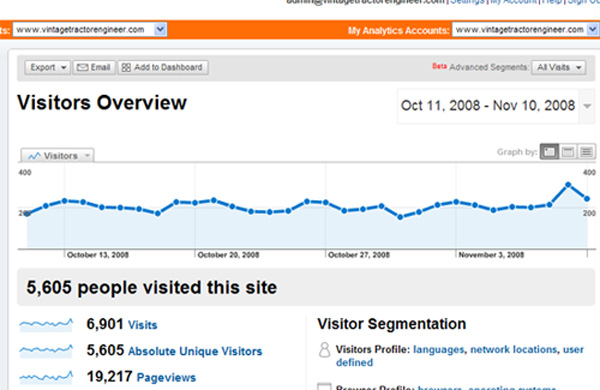 We can also see from the graph below how visitor numbers have increased over the past 18 months from May 2007 to November 2008.  Vintage Tractor Engineer is now building many external hyperlinks from quality vintage/classic tractor sites as other webmasters appreciate the quality of the content on the website and link to us. This is not only providing visitors from these sites, but also increasing the 'importance' and page rank of the site by the search engines which is placing VTE higher up on the search results pages.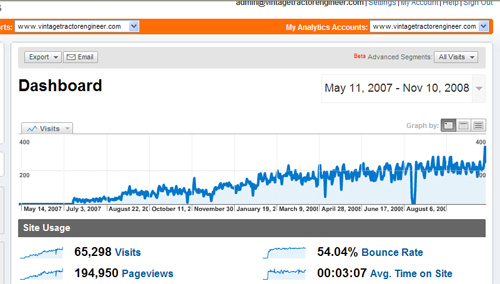 If monthly visitor numbers were to remain the same as for October 2008, in the coming year we would have 83,000 visits.  If, however, the trend for increasing visitor numbers continues, then the site should expect to have something in the order of 120,000 visits in the coming 12 months.  Development will continue to revolve around mechanical and engineering advice and demonstrations for vintage tractors.  There will be a continuing addition of content for the Massey Ferguson 35, but we will be increasingly focusing on the TE20 'Grey Fergie', before adding more content for the Fordson Dexta.
Thanks must go to all our customers and contacts.  Our business, hobby and life is tractors, and we appreciate all the correspondence we have with tractor enthusiasts from around the world.  It is gratifying to know that people enjoy reading about our tractors and benefit from the knowledge that we can disseminate through this website.  Likewise we enjoy to hear about our customers' tractors, mechanical problems and solutions.