Want to check out our tractor maintenance videos? Click here to see what we've got!
Between 1946 and 1956 over 517,000 Ferguson TE 20 tractors were manufactured. We have information for serial numbers and model variants but there are loads of good sites that go into further detail. Friends of Ferguson Heritage is always a good starting point as they have lots of good articles and links to Ferguson sites & suppliers.
However, our favourite site is Ploughmyfield. This site follows the journey of Tim and his TEF 20 restoration over the past few years. Each time Tim solves a problem or sources a replacement part everything is recorded in his diary, including what the problem was and where he sourced the new parts from. When Tim hasn't been able to get what he has needed, then he has manufactured it himself and he will supply some difficult to find parts.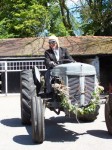 Tim even used his TEF to arrive at the church on his wedding day! This site is a great read and no doubt there will be much more to come in the future. Now that VintageTractorEngineer has found Tim's site we are regular readers and would recommend Ploughmyfield for any TE 20 enthusiasts.