Want to check out our tractor maintenance videos? Click here to see what we've got!
The grey Ferguson TEF 20 we have just bought is in fair condition.  The wing skins have been replaced so there is no rot on them, the only thing is they have flexed slightly when they have been tightened down to the brackets which has slightly cracked the paintwork.  The bonnett has had some filler at the front, which is evident from the crack in the photo.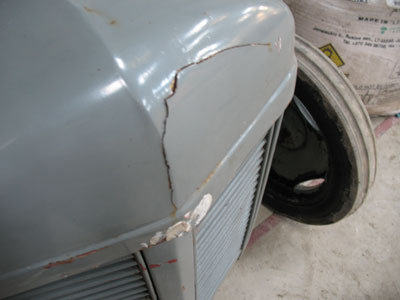 The front grill would be OK, other than the bottom 3 bars broken out from the RH side.  The front tin work is has some rust and dents, as would be expected – really the condition is quite good for the age of the tractor.  To be in show condition this really needed to be replaced, but we are going to concentrate on the mechanics of the tractor first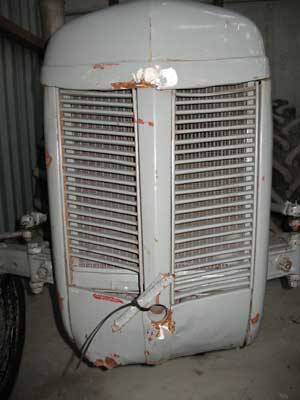 Below we can see the pool of oil created from the oil leaking past the power take off shaft seal – in just one week of standing on the concrete.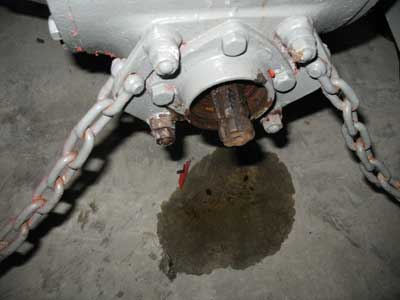 The gaskets around the engine are leaking in several places, but these will all be replaced when we strip and then rebuild the engine.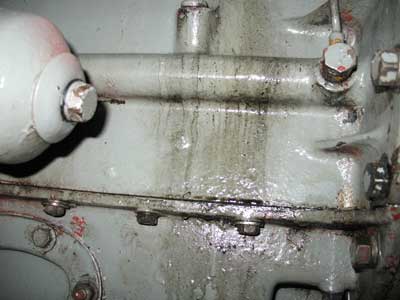 Related Articles
Previous Article In Series – Ferguson TEF 20 For Restoration
Next Article In Series – Removing Footplates On TEF 20
[ad#2-ad-banner]