Want to check out our tractor maintenance videos? Click here to see what we've got!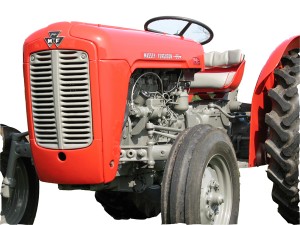 We've had an email from David who owns a MF 35 in Hampshire (England).  David describes his '35 as in "showroom condition", but David wishes to take his tractor further and present it in a special way.  Here's what he says…
"For the future I have the plan to take the tractor to the state that Massey Ferguson used for exhibiting their products.

I wished I'd photographed the tractors on the stand at Smithfield, all those years ago!

I didn't know I'd need a pictorial reference for a project 50 years in the future!"

David is interested to know if there is anyone who maybe used to work for Massey Ferguson and helped prepare the tractors for the agricultural shows and if the tractors were prepared in any special way?

Were the tractors ever given special paint jobs for the shows?
Were the tractors ever sprayed a different colour for a show?
How were the tyres presented?
Was there any selected plating of parts?

If anyone has any first hand knowledge of this please leave a comment in the box below.  Maybe you were an apprentice working for Ferguson and it was your job to help prepare the tractors for the shows, worked at a MF dealers, or maybe you visited the shows as a potential customer and have memories of the tractors on the stands.
We have a photo of an MF 35 from a 1957 brochure which looks as though it has the injection pump painted and possibly also the fuel filter.  Note the front tyre treads in this photo.
Unfortunately David also had some bad news for us.  Someone has stolen his bonnet.  Clearly the thief must have known the value of a show condition bonnet and must therefore have known how important it was to David.  Through this website, Vintage Tractor Engineer meets many good, honest, interesting, salt of the earth tractor enthusiasts who are a credit to our hobby.  Lets hope we don't hear of any more stories like this for a long time.