Want to check out our tractor maintenance videos? Click here to see what we've got!
The Massey Ferguson 135 was produced from 1964 to 1978 and is one of the best loved Massey Fergusons tractors.  The 135 was the smallest in the 100 series range and was launched at the Smithfield Show in 1964, fitted with a Perkins AD3.152 engine which later gave 47hp.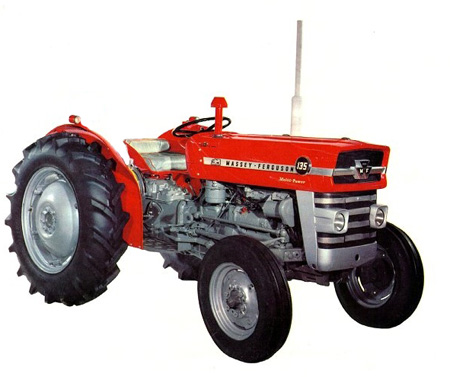 The 100 series tractors replaced the MF35x and MF65 tractors, retaining many of the much loved features of the 35 but with some added equipment.  The hydraulic system was slightly redesigned, lifting 3,150lbs at the lower links and incorporating an integral pick-up hitch.  The more squared look of the body work gives that classic look, and with self cleaning foot pedals, a larger fuel tank and comfort seat, the tractor was well received by farmers for 14 years.
Want to know MF135 serial number information?
The hydraulics on the 135 provided position and draft control, as previously available on the MF35.  The hydraulics system also came with the option of "pressure control".  Pressure control was a function which could be used to transfer the weight of a trailed implement onto the drive wheels to increase traction.  A special pressure coupler attached between the lower links and the drawbar of the implement.  When traction was good the position control lever could be set on "Low Pressure" (which provides a low pressure of hydraulic fluid into the lift cylinder), but if traction deteriorated then the position control lever could be moved to increase the pressure, increase the weight on the drive wheels and hence increase traction.  Pressure control couplers were not well used on farm, which was a shame as the full traction ability of the tractor was often not realised.
Tractors were fitted with similar front axles as the 35 up to 1969, at which point they changed to a straight beam axle.
Many MF135 tractors are still been used on farms today.   Vintage Tractor Engineer visits many farms with large modern tractors and materials handlers, then somewhere around a corner, in an old cart shed, maybe powering a mill or a sawbench, lifting bales into cattle yards…. is a 135 – still in daily work after leaving the factory over 40 years ago.
One place to be sure to find one of these manoevrable little machines is on a dairy farm, scraping up slurry – the brakes may not be that effective and the bodywork and wheel rims rotting, but they are still hard at work, starting up every cold winter's morning without any complaint.