Want to check out our tractor maintenance videos? Click here to see what we've got!
On 19th November 1957 it was announced that the Massey-Harris-Ferguson name was to be changed to Massey Ferguson.  The result of this was that the gold and grey liveried FE35 was to change to the new Massey Ferguson colours of grey and red.
This promotional photo shows that although the livery changed to red and grey, the triple triangle badge of Massey Ferguson was not used immediately.  Here we see a red and grey tractor with the Ferguson badges, just as on the gold and grey FE35.
Peter Shannon (comment number 48 on the FE35 page), suggests that the first tractors painted red and grey were produced on 5th December 1957, but these tractors retained the Ferguson badge until serial no. 107892 (approx. June 1958) and that the old push-button bonnet was used until serial number 141140 in 1959.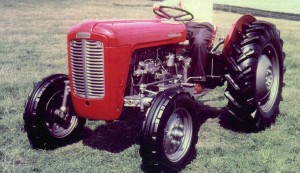 Also take a look at Per's Ferguson FE35 and the decals.  Per's tractor has the Ferguson badge on the front of the bonnet, but the decals along the side of the bonnet appear to have been replaced???
More information about decals and badges on Dave's MF 35 Page, also Jeff's tractor is the same as Dave's with a Ferguson badge on the front and Ferguson stickers along the side of the bonnet.  These tractors are very close in serial number.
Mine is, as far as I can tell a 1959 FE35 and it too has the distincitive Ferguson badge on the front above the grill.
Vintage Tractor Engineer has though about the information above and decided that this page should be devoted to all the decals information that people send in. If you have a tractor that you believe has its original decals and badges still in place then please do contact us. We'll email you back so that you can send photos and serial numbers. This information will be invaluable to restorers who are looking to get their tractors in as original condition as possible.
We've been outside into the barn to look at our 1962 Massey Ferguson 35, serial number SNMY297118. It is standard chassis, 3-A152 Perkins diesel, dual clutch, diff-lock. We purchased this tractor new in 1962, so we are certain that the bonnet and the decals are original and have not been changed in any way. The right hand side of the bonnet just has Massey Ferguson 35 and the Ferguson System decals; whereas the left hand side has the same decals plus the decal that reads "U.W. 1 TON 8 CWT. MAX SPEED 20 M.P.H. WITHOUT TRAILER"
Here are the photos…
MF35 (3 cylinder diesel) Engine Rebuild DVD
MF35 (4 cylinder diesel) Engine Rebuild DVD